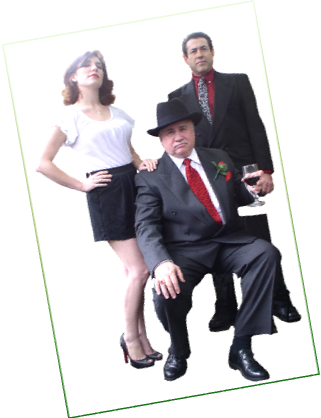 The PRINCE of
ARTHUR AVENUE Synopsis: Honor and Betrayal


It's another lovely day in Little Italy: the sun is shining, the birds are singing
- and an aging mobster is strolling down Arthur Avenue on his way to a meeting with his most trusted lieutenant . . .

Frank Bernardo, a man who is both respected and feared, has lived here all his life - in fact, he pretty much runs things around here - and although these days the neighborhood is packedwith tourists, it's still a great place. &nbsp Frank is greeted by his dependable capo, Sonny, at Frank's stylish restaurant, a place where reality seems to merge with the romance associated with mob life: just down the street is where "The Godfather" hit scene was filmed;and in the next block is where a waiter named Joe Pesci was discovered. Here, over a bottle of Chianti, Frank Bernardo reminisces about the good old days, when mobsters got whatever they wanted - and when the code of "onorta", or honor - still meant something. But it's still a violent and vindictive world - as we are soon reminded, when Frank orders Sonny to whack an associate. Sonny, whose sense of honor and duty is unbounded, accedes to Frank's command with scant protest; and he and Tony, a less-principled mobster, plan the job.

But on Arthur Avenue, things are not always the way they seem - and Sonny finds himself confronted with an agonizing decision that will leave him no way out.

Producer/director Terrence Knight turned downtown Olympia, Washington, into a facsimile of the Bronx to make "The Prince of Arthur Avenue", an entertaining and exciting short about the anguished demands of honor in a violent world.

CAST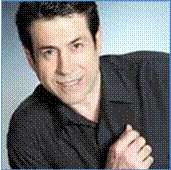 JOHN FANTASIA has studied with Lee Strasberg at the Actors Studio, and with Uta Hagen at the Carol Rosenfeld American Academy of Dramatic Arts in New York. Credits include a wide variety of roles in "The Right to Bear Arms", "Battle in Seattle" (Insight), "The Coffee Break" (VVrus Films), "The King of New York", "Highlander" (I & II), and many more; television work includes a performance as Detective Matt Haney Wall for the Discovery Channel (Wall to Wall), "The Sekai Gyoten News" (Nippon Television, Tokyo), and multiple appearances in "NYPD Blue" (NBC), "Law & Order" (ABC), and "The Cosby Show".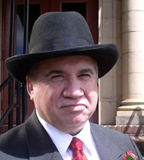 The part of aging mobster Frank Bernardo is the first dramatic narrative role for
ROBERT CORL, but he brought a wealth of performing experience to the part.
A student of Marianne Casiello of Temple University, where he studied music, and
Nico Castel (Metropolitan Opera), this reputable operatic tenor has sung around the
world, with a specialty in Verdi. In "The Prince of Arthur Avenue", he can be heard
singing from "Tosca" during the hit scene. And as a New York City native, he
brought a natural accent - and plenty of attitude - to the role.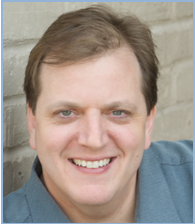 Seattle actor JOHN WILLIAMS LYNCH began his career in musicals,
but quickly developed a reputation as a dependable action figure. He attended Vassar College and studied at Seattle's Freehold Theater Lab and at London's prestigious British Academy of Stage and Screen Combat. Credits include a long list of local theater appearances, as well as Seattle Repertory, Seattle Opera, and many others. He has received extensive stunt training with the United Stuntmen's Association, and has choreographed fight scenes for many theater and film productions.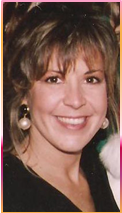 Supporting roles include outstanding performances by beautiful DANA CLARK (left), an accomplished actress from Tacoma, and ABBY WELLS (not pictured), best known for her electrifying
performance as Maggie the Cat in Olympia Little Theater's "Cat on a Hot a Tin Roof."
The conductor of Opera Pacifica, CLAUDIA SIMPSON-JONES,
served as music director. Additional music was contributed
by popular hip hop artists HOLLYWOOD KILL KREW, seen here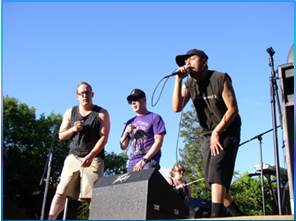 during a recent performance, and trumpeter ANDY OMDAHL, a much respected studio musician who has recorded for feature films.

JESSICA DILLON, production designer, is an experienced publishing artist with years of experience in graphic design.

Producer/director TERRENCE KNIGHT's background is primarily in television, with an emphasis on production for network affiliates. Mr. Knight also wrote the screenplay.
"The Prince of Arthur Avenue" began as a short story by former New York City undercover detective
PATRICK W. PICCARELLI, who knows the meaner streets of NYC better than just about anyone;
he is the author of "Blood Shot Eyes", "Mala Femina: A Woman's Life as the Daughter of a Don", and
"My Life in the NYPD: Jimmy the Wag", currently in production as a feature film as
"Undercover Cop", starring Jason Segal (Dreamworks).
FAQs
"The Prince of Arthur Avenue" is an indie short about a day in the life of mobster Frank Bernardo as it plays out on a famous boulevard in the heart of Little Italy, the Bronx. Driven by the dramatic narrative of conflicting characters, this indie short depicts the kind of tragic consequence that ensues when reality and fantasy collide - and along the way, makes a cryptic statement about the mob film genre.
GENRE: crime/action
RUNNING TIME: 20:48
TAGLINE: On Arthur Avenue, things are not what they seem. And that can get you killed.
RATING: Targeted at GP; no rating yet received from MPAA. Some rough language and violence.
FORMAT: HDCAM (24f)
LOCATIONS: Olympia, Washington; Lacey, Washington
LOGLINE: Mobsters plan a hit on a wayward associate, but self delusion leads to a surprise and shocking conclusion.
PRODUCED & DIRECTED by Terrence Knight
SCREENPLAY by Terrence Knight
STORY by Patrick W. Picciarelli
LEAD ACTORS: John Fantasia, Robert Corl, John Williams Lynch
STUDIO: KnightVision
1919 Evergreen Park Drive SW #10
Olympia, WA 98502 USA
360.753.3836
terryknightvision@peoplepc.com
Reviewers are invited to request a review copy at: terryknightvision@peoplepc.com
INTERVIEW WITH THE PRODUCER/DIRECTOR
Terrence Knight is an award-winning print and broadcast journalist by way of Oklahoma to Chicago to Montana and Olympia, Washington, where he published The Sitting Duck, an arts and culture tabloid.
INT. Where did you find the story for "The Prince of Arthur Avenue?"
TK. The story was actually discovered by my mate, Jessica (Dillon). It's part of a collection of mystery stories in a volume titled, "Bronx Noir". There was a series of noir titles out at the time by Akashic Books in New York, and I had gotten into the habit of reading them in bed. One night Jessica said to me, "You've got to read this one." So, I did. And immediately I recognized that it was a story with huge filmic potential.
INT. What is it that makes the story particularly "filmic"?
TK. For one thing, it's largely about fantasy, about what is real and what is false, which is something I had been thinking a lot about lately. And I got to thinking, isn't that what movies are really about? Because all movies are ultimately fantasies, they're more like dreams than reality, including films that purport to be "neo-realistic". And also, I thought it would be cinematically challenging to make a movie that illustrates the thin line between delusion and reality. In that way, "Prince" tricks the audience a little - but all movies are "tricks". The moment I had finished reading it, I could "see" it in my mind. I knew what it should look like.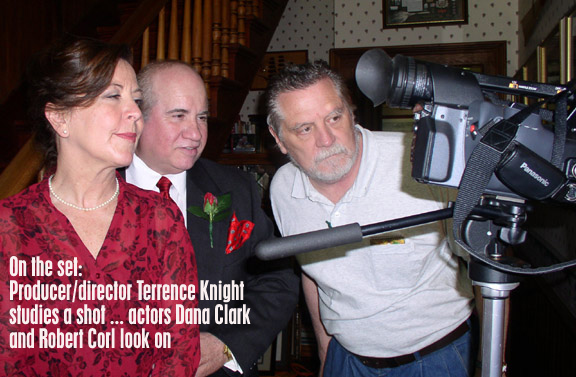 INT. Did the final product end up that way?
TK. There were so many bumps along the way that inevitably the vision got skewed here and there. But that can be a good thing. A lot of really talented people gave their advice, and in the end, I think we ended up with something that is better than my original concept.
INT. You're best known as a polemicist. Does "Prince" have a political message that reflects your philosophy?
TK. (laughs) Not enough to talk about. But at the time I read the story, I was thinking a lot about how people sometimes become convinced that such and such is true, and then, even when they discover they're wrong, hold on to that belief. I find that to be a really curious part of human nature. But more than anything, I just wanted "Prince" to be entertaining.
INT. What kind of artistic transition did you have to make as a writer of non-fiction to put together a screenplay?
TK. That's a good question. I had never written a screenplay before and wasn't sure I could do it. But I had the advantage of Picciarelli's story, which is so damn good, and he helped out. Even so, I had several false starts before I was actually able to hammer it out.
INT. How long did it take you to finish the script?
TK. Once I got the hang of it, only a few weeks, although the first draft went through a lot of revisions before we actually began shooting.
INT. What do you mean by "getting the hang of it?"
TK. I had a hard time at first. Then one night I was hovering over the keyboard, and took a sip of Scotch, and it occurred to me that I was going about it all wrong. When you write essays, what's important is to come up with new ideas and express them in a way that is both lucid and compelling. But that's the wrong algorithm for a screenplay. After all, I already had a great story - my job was to simply tell it visually. So then, each time I wrote a line, I would ask myself, "what happens next?" Once I understood that, it went along pretty fast.
INT. You have a background in producing short videos, but this is your first movie. What particular challenges did that pose for you?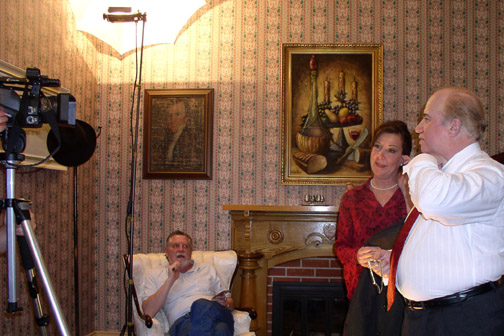 TK. Funny thing, I was confident from the first that I could do it. Do you know what I mean? Did you ever see something wonderful or maybe hear a great song and think to yourself, "Hey, I bet I could do that."
INT. Sounds like you had a lot of confidence in yourself.
TK. You need to have a certain amount of hubris if you want to do something as crazy as making movies - or accomplish anything in life. Claudia Simpson-Jones, our musical supervisor, tells this wonderful story about how she decided to become a commercial airline pilot; she's one of the first women to ever fly the big jets. Someone showed her the cockpit of a big airliner, and the first thing she thought was, "Hey, I can do that! Toss me the keys!" If you sincerely believe that you have the natural talent to do something, then chances are pretty good you're right.
INT. What made you suddenly decide to make movies?
TK. I've always wanted to make motion pictures. There's just something about the movie experience that you don't get in any other medium; there's a kind of "texture" to film, a hyper-reality, you might call it. A really great movie can change your life. When I was a boy, my daddy took me to see "High Noon", and I was enchanted by the camera work. That picture was a real groundbreaker. Even back then, I wanted to make movies. But it was never really practical for me, and along the way I got involved in journalism and television and other things. But the digital world opened up all kinds of possibilities. Then I happened to meet Marc Turtletaub, the producer of "Little Miss Sunshine", at a West Coast film festival. That's a wonderful little picture that started with some folks with limited experience, but they had a great story. I already had experience as a writer and in production, so somewhere between the champagne and the salmon pate, it occurred to me that if they could do it, so could I.
INT. Did you get help and advice from other people?
TK. We were very lucky when it came to that. The novelist Jim Lynch reviewed the screenplay; and playwright Bryan Willis did the casting and gave us lots of production advice. I also happened to meet Piper Laurie, whom I regard as one of the greatest cinema actresses of all time. We talked a lot about movies, especially about indie films and the importance of mastering the fundamentals. She helped me think more about the acting profession, too.
INT. What do you mean?
TK. Well, I had been thinking for a long time about what makes a good performance. I can easily criticize a picture on purely technical grounds - is the focus good, how's the lighting, what's the design palette, things like that … but I realized I didn't really understand what acting is all about. Why do some performances seem to really leap off the screen?
INT. And what did you discover?
TK. I realized that acting requires a high intelligence. On the one hand, if an actor basically understands the role, all he or she has to do is show up and say the lines and then go home at the end of the day. It's no more complicated than that. But to have a really great performance requires something more. And I came to understand that what is most important is that the actor understand the character on a profound level, with all the nuance of passion and conflict, the kind of really gritty things that condition the human experience. That requires a deep understanding of people, including people who may be quite different from you.
INT. How did you get your cast and crew together?
TK. I hooked up with some local talent, but most of it came from Seattle. We had a casting call, and I called around and interviewed people. Making movies is very hard work, and it's very important that you have people who not only have talent and skills, but a good professional attitude and can work together.
INT. Was it hard to find people?
TK. Sometimes. But everyone loves movies, and lots of folks offered to help out in different ways, like making their restaurant available for a location shoot, or agreeing to play a bit part. For example, there's this little scene where Cynthia Salazar, who owns a flower shop in downtown Olympia, meets Frank Bernardo on the street; he kisses her hand, and she turns and kind of flutters her breast with her hand . . . it's a tiny gesture by a non-professional extra that isn't even in the script, but it was a delightful little spontaneous gesture that adds a lot of charm to the picture.
INT. Did you have a lot of surprises like that during filming?
TK. (laughs) I'll say. More than I can remember. You start out with a story and a script and then you do all this pre-production planning, which is a huge job, and then you get on the set and you have to make a lot of stuff up on the fly. The most important thing about producing, I would say, is learning to be resourceful.
INT. Is that the most important thing you learned?
TK. No, the most important thing is to be persistent. Although, come to think of it, I already knew that.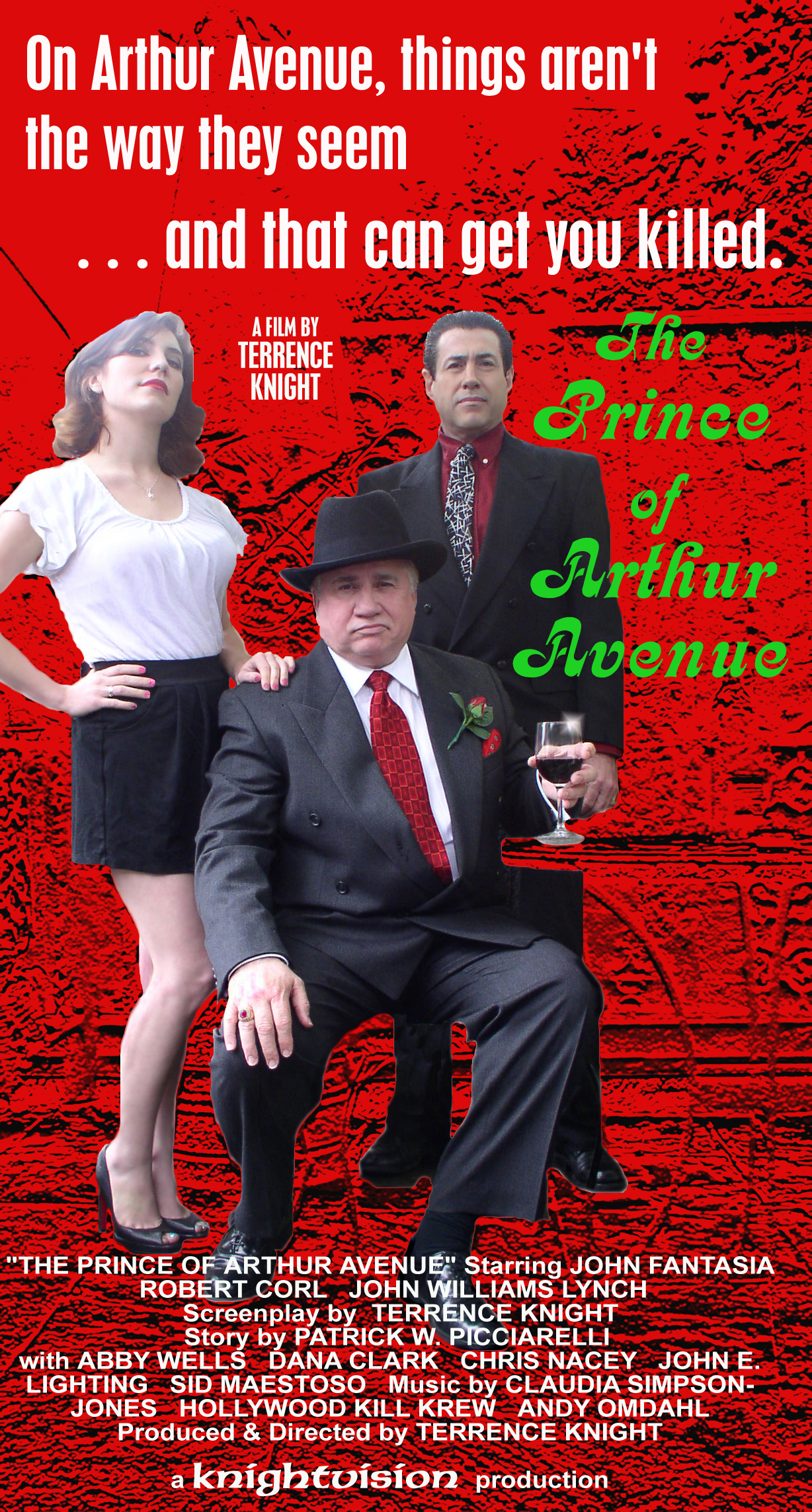 "The Prince of Arthur Avenue is a clever and provocative twist on the modern mob story. And Terrence Knight appears to be a natural filmmaker, pushing the envelope with this short flick as his daring debut."–Jim Lynch, author 'Border Songs', 'The Highest Tide'


"An extremely impressive debut. Looking forward to his next success. Terry Knight is clearly ready to tackle a larger work." –Bryan Willis, playwright-in-residence, Northwest Playwrights Alliance at Seattle Repertory Theatre

Click to
VIEW TRAILER Click to
REQUEST A FREE DVD
(reviewers only)

Other Press coverage
(with location and publicity shots)