ARRIVING IN STYLE. FORMER COUNTY COMMISSIONER LES ELDRIDGE ESCORTS WIFE MARY FROM A GLEAMING CADDY
TO APPROACH THE RED CARPET; ON THE RIGHT, FORMER OLYMPIA MAYOR MARK FOUTCH OPENS FOR WIFE JANET CHARLES

KELLIE PETERSEN, POPULAR IN YELM'S
THEATER COMMUNITY, WITH ROBERT CORL,
WHO STARRED AS TRAGIC MOBSTER FRANK BERNARDO

POPULAR TACOMA ACTOR JOHN WILLIAMS LYNCH IS
PARTICULARLY RESPECTED FOR HIS ACTION ROLES. IN
'THE PRINCE OF ARTHUR AVENUE', HE PLAYS AN ARROGANT
MOBSTER WHO LEARNS THE HIGH PRICE OF BETRAYAL.
HERE HE CHATS WITH RENOWNED NEW YORK CITY STAGE
DIRECTOR NANCY HILLMAN


GLAMOROUS LYNNE GLORE, AN ENTHUSIASTIC SUPPORTER OF THE ARTS,
WITH COMPANION DAVID KEENAN.
BOTH STAYED TO PARTY apres premiere WITH CAST AND CREW



PRODUCER/DIRECTOR TERRENCE KNIGHT WITH THEATER MANAGER
HOWARD CHRISTIAN POSED WITH THE YELM CINEMAS MASCOT
MOMENTS BEFORE THE SCREENING

HELMUT & DORIS ZAHN, PARENTS OF WRITER JENNIFER
WALDREF, ARE WELL-KNOWN SUPPORTERS OF LOCAL
INDEPENDENT CINEMA




The YELM CINEMAS are the South Sound's most popular and stylish venue for the best
in motion picture entertainment<!hr align=left" size="10" width=225 color="Blue">




OLYMPIA COUNCILMEMBER KAREN ROGERS (R) IS KNOWN FOR HER COMMITTMENT TO LOCAL ART, INDEPENDENCE, AND CREATIVE THINKING. SHE'S SHOWN HERE WITH PRODUCTION DESIGNER JESSICA DILLON, WHO ALSO CATERED LOCATION FILMING WITH HER FAMOUS CREOLE CUISINE

JOHN NICHOLAS, SHOWN HERE WITH WIFE TRICIA, PLAYED THE PART
OF A PRIEST IN 'THE PRINCE OF ARTHUR AVENUE'



JOE & LAURA CATUTTI, BOTH NEW YORKERS THEMSELVES, APPEARED IN THE MOVIE
AND BOTH GAVE VALUABLE PRODUCTION ASSISTANCE


OLYMPIA RESTAURATEUR AND ENTERTAINMENT ENTREPRENEUR
TODD RUDZICKA
IN SIGNATURE MAUI SHIRT,
WITH FAMOUS OLY BABE
GINGER MCGINNIS.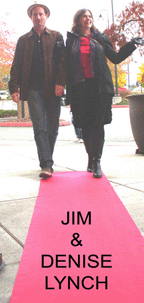 THE PREMIER OF TERRENCE KNIGHT'S 'THE PRINCE OF ARTHUR AVENUE' WAS A BIG SUCCESS
THAT ATTRACTED NOT ONLY LOVERS OF FILM BUT THE REGION'S MOST
IMPORTANT CREATIVE PERSONALITIES
BEST-SELLING NOVELIST JIM LYNCH ('THE HIGHEST TIDE',
'BORDER SONGS', 'TRUTH LIKE THE SUN') STRUTS THE RED CARPET WITH LOVELY
WIFE DENISE.

MR. LYNCH, ALONG WITH NOTED PLAYWRIGHT BRYAN WILLIS,
GAVE TERRENCE KNIGHT
VALUABLE SCRIPT ADVICE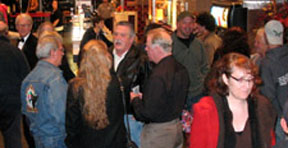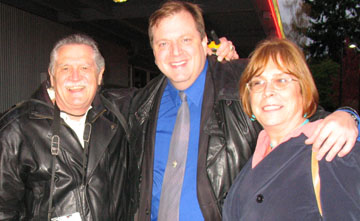 (L-R) PRODUCER/DIRECTOR TERRENCE KNIGHT
WITH ACTOR JOHN WILLIAMS LYNCH AND
CO-PRODUCER/PRODUCTION DESIGNER
JESSICA DILLON OUTSIDE THE YELM CINEMAS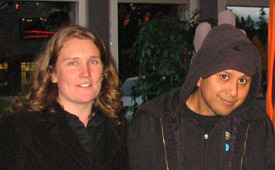 HIP HOPSTERS HOLLYWOOD KILL KREW APPEARED AS THE STREET PUNKS'AND PROVIDED ORIGINAL MUSIC FOR THE SCORE OF 'THE PRINCE OF ARTHUR AVENUE' (L-R) ERIN H. KORNTVED, DOC HOLLYWOOD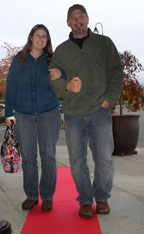 (BELOW, CENTER L-R) ALEX RUIZ aka DOC HOLLYWOOD,
ANGELA BARBER,
EDEN LOES,JEFF TURNER, LUKE TURNER