Award-winning writer Molly Gilmore, in The Olympian:
FILM TAPS OLY, LACEY FOR THE BRONX

The short film "The Prince of Arthur Avenue" features John Fantasia, who's been seen in films including the "The King of New York" and "Highlander" and TV shows including "Law & Order" and "NYPD Blue."
It also features a lot of well-known denizns of downtown Olympia, including Kevin Boyer, intgerim executive director of the Washington Center for the Performing Arts; Cynthia Salazar of Capitol Florist; and Sid Maestoso of Bisilico Ristorante Italiano, which also serves as a locaation for the film.
But arguably the star of the film, which premiers Wednesday in Yelm, is Olympia itself – playing the rather unlikely role of the Bronx.
"We shot part of it on Washington Avenue and part of it on Capitol Way," said director and producer Terry Knight of Olympia. "There are exterior scenes shot in front of the Urban Onion and a getaway scene shot in front of Fish Brewery."
So does it look like the Bronx?
"It's a good question," said Knight, who wrote the script, adapting a short story by New York City police officer Patrick Picciarelli. "Believe it or not, I've never been to New York City. I've studied a lot of pictures of Arthur Avenue. I sent it to Picciarelli and he says it looks great. "Everybody said,k 'You can't do it,'" Knight added. "We used a lot of close shots and kept Sylvester Park out of the frame. If you look very closely, there are all kinds of clues that you're not in New York City."
Indeed, while it might look like the Bronx to peole who don't live in Olympia, it's very clearly Olympia for those who do. But suspending disbelief is part of the theme of the film, in which nothing is quite what it seems – not the Bronx, and not the plot, whcih puts its own twist on the ganster-movie cliches.
Even Lacey plays a role in the geography game. The film's restaurant sequence begins in Basilico, and then the mob boss – layed by opera tenor Robert Corl of Yelm – walks into a back room, actually part of Ricardo's Restaurant.
Though this is his cinematic debut, Knight, who was publisher of the late Sitting Duck weekly newspapeer in Olympia, had a lot of writing experience and some experience with video production.
"I decided I wanted to make motion pictures," he said. A few years ago, he went to the Port Townsend Fim Fetival and had the chance to talk with actress Piper Laurie and producer Marc Turtletaub, who worked with two first-time directors on "Little Miss Sunshine."
"Both of them said, 'If you want to make a movie, go make one'," he recalls. "they said, 'After you've done it, you'll know how to make a movie.'" "That turned out to be true," he said. "My knowledge curve just exploded. I think now I could make a good feature."
And that's his plan. He's in the process of optioning another story that he hopes to turn into a feature to be filmed in Thurston County.
On "Arthur Avenue," Knight got help from notable local figures including Claudia Simpson-Jones of Opera Pacifica, who worked on the music, and novelist Jim Lynch and playwright Bryan Willis, who gave input on the script.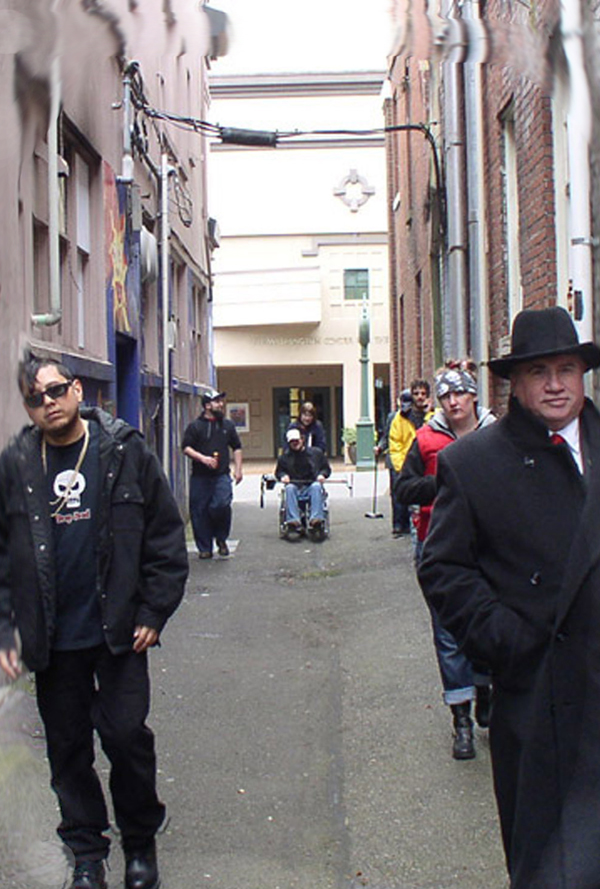 Both script advisers had praise for the finished product. Knight's webside quotes Lynch: "The Prince of Arthur Avenue is a clever and provocative twist on the modern mob story. And Terrence Knight appears to be a natural filmmaker, pusing the envelope with this short flick as his daring debut."
Also contributing to the film: local hip-hop group Hollywood Kill Krew, which contributed music to the film and played small roles; trumpet player Andy Omdahl; and Corl, who sings an aria from Puccini's "Tosca." "You can hear his voice singing over his own death scene," Knight said.
---
Matthew Green's story in Olympia Power & Light:
OLY FILMMAKERS HIT THE BIG SCREEN
How do you make Olympia look like the Bronx, NY?
"We used a lot of tight shots to hide the non-Bronx stuff, says local producer/director Terry Knight. "Movies are all about illusion anyway."
Knight's short (20 minute) film, The Prince of Arthur Avenue, is set in the Little Italy portion of the Bronx ("The famous hit scene in "The Godfather' was shot there," says Knight), but was filmed entirely in Olympia.
Locations include the front of the Washington Center, along Legion Way in front of the Olympia Hotel, and on Capitol Way in front of Capitol Florist and Basilico. Wally's Subs on the westside shut down for an entire day or a restaurant scene. And former Olympia Mayor Mark Foutch lent the foyer of his Victorian era home, already filled with Catholic items, for scenes set inside an Italian household.
Several local business owners have small roles. And watch for a cameo by perhaps the only black Cadillac in Olympia.
After a career in television and journalism (including as publisher of The Sitting Duck, one of the predecessors of Olympia Power & Light, Knight decided he wanted to make movies. "I just decide to make a movie, because movies are the gratest thing in the world," he says. "They're the complete art form. They have a certain texture to them that is hperreal. A movie can draw you into other peoples' lives and experiences."
"Just about everything I think I know I learned from Steve McQueen and The Magnificent Seven and movies like that. I'm only half kidding about that."
The story, about well-respected neighborhood mobsters, came from a short story by Pat Picciarelli, a former NY undercover cop. Knight optioned it, wrote a screenplay, and started pulling together all the pieces to make a movie. Shooting took two weeks, but the entire production â from auditioning actors to editing the final cut – took almost two years.
The film includes music by local hip hop artists Hollywood Kill Krew.
Knight says he hopes to make another movie, perhaps a full length feature. He's considering a reimagining of Shane,(the classic Western), or maybe a zombie movie! "It would be a natural. If there was ever a town that would be a good fit for a zombie movie, it would be Olympia."
---
From Dean Siemon in Nisqually Valley News:
INDIE FILM WILL PREMIERE IN YELM
Yelm Cinemas is set to premiere an independent short film called "The Prince of Arthur Avenue" later this month.
Produced and directed by Terrence Knight, "The Prince" is a short fiolm based on mob life in the Bronx's Little Italy.
"The first challenge was turning Olympia into the Bronx," Knight said. "We thought we were going to have to film in Tacoma, but we worked around it."
The film stars Robert Corl, who lives in Yelm with his wife Claudia Simpson-Jones, the short film's musical director.
The two introduced the film to Margaret Clapp, owner of Yeklm Cinemas.
Clapp was unavailable for comment.
Knight said he is excited about debuting his film in Yelm.
"I'm just overjoyed to show it out there because it's a gorgeous venue," he said.
Knight the film was a lot of work, but he's glad to have made his first film.
"My background is in broadcast journalism, but I'm kind of retired now," Knight said. "It's something that I could never have done when I was younger."
Knight also mentioned early plans to possibly film his next project in the Nisqually Valley, scotuing different loations around yelm, Rainier, and Tenino.
"I want to make another one and I want it to be in a rural area," he said.